Pillow Cases 300 Pure Cotton
Fresh bed linen, the business card of your bed - with luxury hotel bed linen from Hanse. Do you remember the smell of fresh bed linen straight from the hot iron? Spoil yourself with some luxury and bring back the good old times. We supply e.g. the Burj Al Arab, but also royal families from the Middle East with these bed linen.
High threadcounts (thread count per square meter) ensure a soft feel
Pillow case 100% pure cotton in a noble, white luxury hotel look
Confidence in textiles - no harmful substances, certified by Oekotex
Highest environmental standards of the Business Environmental Performance Initiative
Manufactured to the standards of the Business Social Compliance Initiative, SA8000
Luxushotel Bed linen from Hanse, directly from Hanse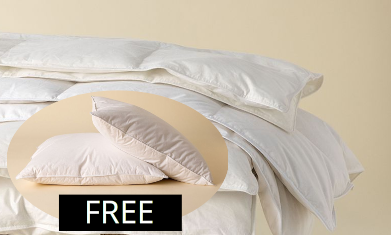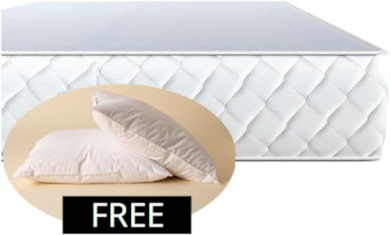 The modern way to enhance sleep
A little luxury is a must: with Hanse bed linen like in luxury hotels. Noble white luxury hotel look, excellent craftsmanship, soft feel, plus breathable fabrics. With Hanse bed linen we have created and optimised products that combine ideal weaves (cambric or satin) with selected, long cotton fibres to create perfectly crafted fabrics. Extensive tests on tear resistance under various combinations of detergents, washing temperatures and water qualities ensure that Hanse Luxushotel bed linen has maximum durability - and this with the highest, gentle luxury hotel quality.
Why luxury hotel bed linen?
luxury hotels arouse the best associations: Travel. Big, wide world. The feeling of vacation, freedom, carefree enjoyment. And with absolute luxury. Highest quality standards. Gentle haptics, noble, timeless optics. Luxury hotels grant a window into the world of the beautiful, the rich, the carefree. The products must undergo industrial cleaning processes with soothing, highest hygienic standards. They are suitable for allergy sufferers. And all this with transparent, highest social standards and the best environmental standards. Natural products with transparent, audited and certified supply chains.
Luxury hotel bed linen from Hanse offers you all this - bring this piece of lifestyle into your home.
Why bed linen from Hanse?
Hanse has been one of the most important international suppliers of luxury hotels for decades. Hanse serves well over 1500 hotels in more than 100 countries. Hanse is therefore experienced with all local water qualities, with a wide variety of washing machine parks, washing temperatures and detergents. Luxury hotel bed linen from Hanse has been developed with such robustness that it meets the most diverse industrial operating requirements. At the same time, the product itself is always designed for a perfect, luxurious feel, refreshing breathability and the highest standards of hygiene. The uniform appearance of Hanse Luxushotel bed linen is the result of the highest quality in the manufacturing processes. Manufactured under continuous quality control, the Business Social Compliance Initiative BSCI and/or SA8000 and Business Environmental Performance Initiative BEPI.
Bed linen is the business card of the bed
The bed linen is in direct contact with guests - reassuringly safe hygiene is a basic requirement, the gentle feel with industrial robustness and durability, as well as perfect craftsmanship are the result of Hanse's decades of experience in this segment.
Hanse luxury hotel bed linen is the calling card of every bed. The soft, breathable bed linen creates a pleasantly dry, fresh sleeping climate. The noble, white luxury hotel look already whets the appetite for refreshing, restful and carefree, softly luxurious sleep - just like a luxury hotel vacation. Hanse Luxushotel bed linen makes the bed into a product as if it were made of one piece. Washable up to 90°C/200°F, suitable for tumble drying. Hot iron recommended. With Oekotex, ideally suited for people allergic to house dust.
Details
reference
100% cotton
Care instructions
washability
machine washable up to 90°C/200°F
Material
material composition
cover quality, 100% cotton, colour: white
quality and sizes
300 Threadcount (threads per square inch)
Order note
pack size
set of 2 pieces
Worth knowing
allergy information
suitable for people allergic to house dust: yes
Manufacturer
We are the largest manufacturer of naturally filled bedding in Europe - the old telex abbreviation "RIBECO" became our own brand in the late 1970s. Since the 1980s, we have been serving the world's best hotels with our subsidiary Hanse Textilvertrieb, as well as their guests and other private customers.


Right of return
Your happiness is our highest priority. Regrettably, mistakes can happen and you may have received a faulty or defective product, or just ordered the wrong size? To begin the return process, please send us your contact information, order number and reason for return. You will receive return instructions, along with pre-paid postage, within 48 hours. If you have additional questions, please don't hesitate to call us. Please email us at service@hbpshop.com for further instructions.
Dispatch
All orders we receive by 5 pm on working days are sent directly the next day for production, then for packing and the following day for collection by UPS Ground. UPS Ground in turn needs 2-4 working days for delivery. The products should therefore normally arrive between 5 and 10 business days after ordering.