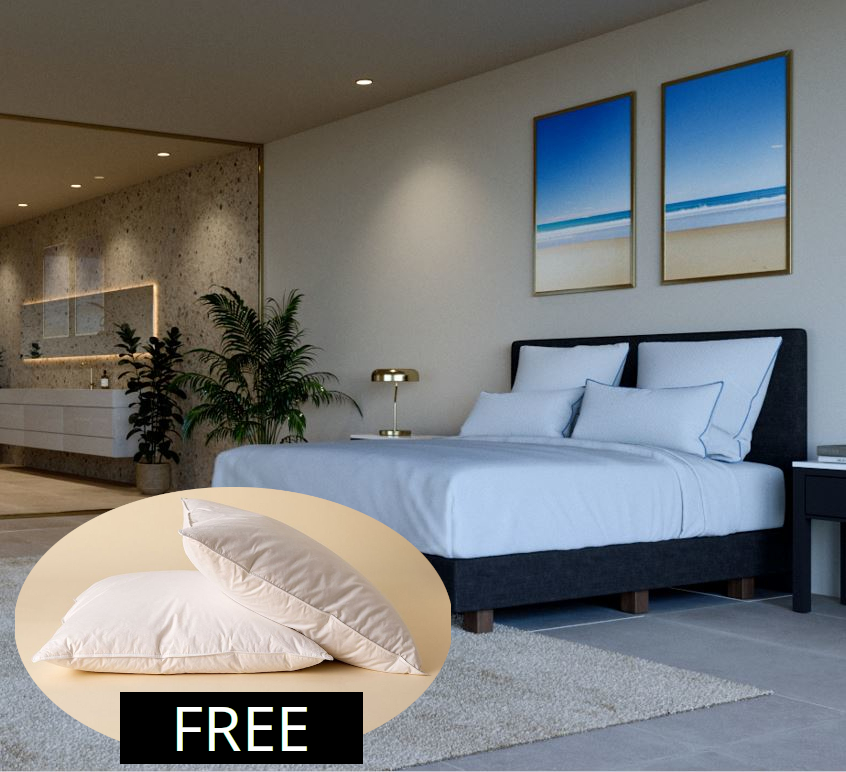 Hanse GEM Mattress
plus free:Natural Hybrid 3 Chamber Pillow Queen Size
The set for perfect ergonomic sleep.
Please select your mattress size
1x HANSE GEM Mattress
Queen 60x80in
2x HANSE Natural Hybrid 3 Chamber Pillow
Queen Size
Shipment within 2 business days (no shipments on Sat or Sunday), shipping cost is not refundable. Return shipping labels for faulty deliveries or wrong sizes within 14 days of receipt, please write to service@hbpshop.com. For refunds on sets, the complete set has to be returned. Rebates, points and other sets or coupons cannot be combined.
The Hanse GEM German Engineered Mattress' revolutionary ergonomic profile ensures that all body types, ranging from petite to extra large, get the perfect support, no matter what sleep position they prefer. With its luxury hotel heritage and German Engineering, you sleep as in the best luxury hotel destinations around the world, AND you can take the mattress for a no-speed-limit-ride on the Autobahn. Together with the luxury hotel 3 chamber pillow, you have an ergonomically perfect, luxury hotel sleep in your own bedroom at home, every night.
Yes! With the OEKOTEX 100 label no harmful substances / bed readiness is certified, and our NOMITE fabrics guarantee that the products are suitable for allergy sufferers.
All Hanse mattress covers can be removed, and as the pillows, they are machine washable up to 60°C / 150°F. You can tumble dry them. Please use a gentle wash cycle with long, fresh water rinsing finish in the wash process.
The mattress cover is made of a poly based 3Dmesh, the core is made of a hybrid foam that performs consistently: We have tested 60 thsd compressions with 300 pounds with practically no indentation of the mattress. The luxury hotel pillow is filled with a blend of hypoallergenic fiber that is spun into poly pearls and natural feather and down.
Our mattresses are engineered with passion in Germany, and made with power in the USA. A pretty much unbeatable combination. 85% of our group's pillows are handmade in Germany. The rest we make in China, to the same social, environmental and product specific quality standards as we manufacture in Germany.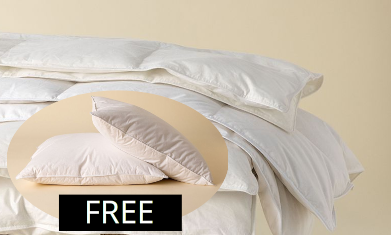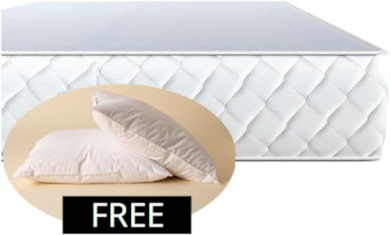 View offer
Service and quality as in a 5 star hotel.
We want you to be happy. Outstanding Sleep is more than a perfect product. We offer first class service.
Delivery
14-day right of return, for mattresses 30 days
Manufacturing
Engineered with passion in Germany, made with power in the USA, or with adherence to strict international social standards with our long-term international partners.
Warranty
2 years manufacturing quality guarantee
View offer